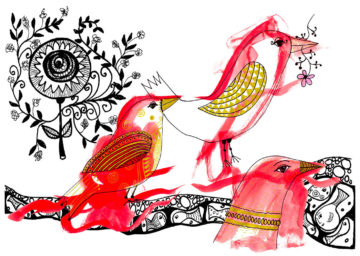 who are you?
My name is Mariska Eyck
 
where do you come from/ where were you born?
I was born in Heerlen, in the South of the Netherlands, and lived there until I was 11 years old. We moved to Rijswijk because of my father's job in The Hague. I have lived in Leiden since 1986.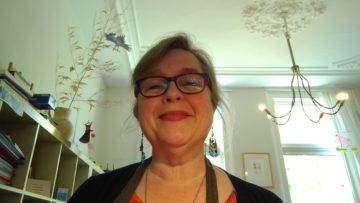 what do you make (and how do you make it?)
I paint, draw and make collages. I use several techniques in one piece. I love working on paper. Usually I scan my work on the computer and then rework it. I love seeing my work in print. I mostly make colorful, happy art, but I love it when there is some double meaning to it.
I try to publish my work on my blog at least 4 times a week. It tends to be art I made that day or the day before. I think of my blog as a column and I also name it 'The (Almost) Daily Art Sparkle'. 
Besides working on my blog I make paintings, murals and I love to paint furniture.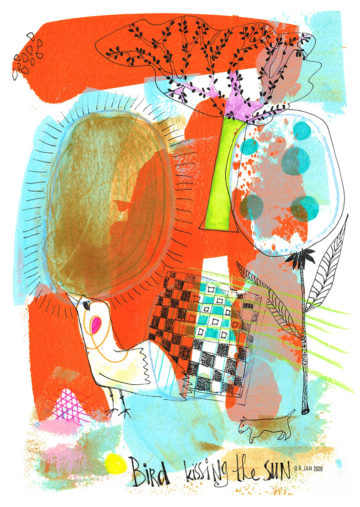 how did end up on this path?
Since I was a little kid I have always drawn. They say that I even made art on the sheets of my bed. Drawing is for me like breathing. I can't live without it.
 
what training do you have?
Oh my, that question is always a bit difficult.
Our parents took us to museums when we were young. I remember going to the Art museum in The Hague very often. I loved it a lot.
Also my father worked in Metz&Co in The Hague, which was an artful department store, selling furniture, bold fabric and more. They worked a lot with artists and designers. From my 13thbirthday on I went to work with my father every Saturday. He always told me a lot about what happened there and about the things to be seen in the shop. Although I didn't realize it at that time I think it had a big impact on me.
In high school I was always to be found in the art department.
All that conceals the fact that I don't have a formal training as an artist, although I went to the Free Academy in The Hague for a while.
And last year I did a surface design course.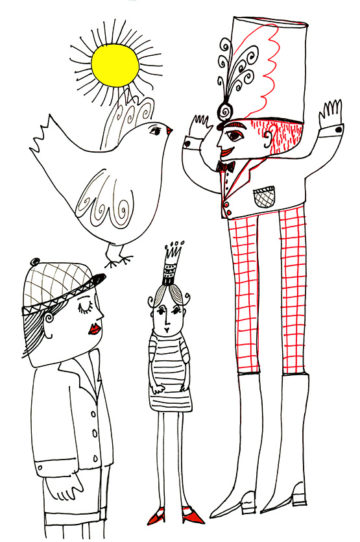 what inspires you?
I guess inspiration can come from everything, from a colour or a form that catches me. But mostly it comes from inside, I guess, out of the whirlpool of informal training I have as an artist.
I usually start by making random lines and forms. There is no goal, no plan. I try to keep working in a sort of dreamy mood for some time, listening to inner voices, associations. At a certain moment the piece seems to take some form and meaning, which I then investigate and work on. In the end the art is always about something that is going on inside of me, whether I am fully conscious of that or not. In that way it can happen that work refers to things going on in the world as they affect me. For instance, at this moment I have a series on my blog called 'The Corona Chronicles'.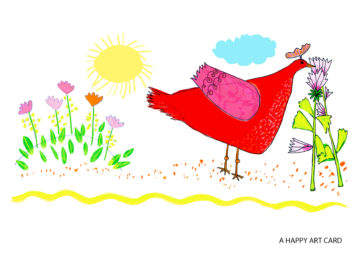 do you have another paid or unpaid job on the side?
No, two years ago I stopped working on my other jobs. Before that I worked as a doctor/therapist/coach for families with children with complex problems. I also worked as a leader for group peer reviewing sessions for medical doctors.
 
how did you get in involved with Galerie Zône?
I was always very impressed by the gallery. In 2002, after long and serious doubts about my own capacities, I dared to show them my work. I was accepted for an exhibition there. And after that I had more. At this moment my project 'happy art card' is in Galerie Zône. Starting 2020 I wanted to make a postcard every two weeks, that would be available for free. The corona-crisis slowed down the process. But now that the gallery is open again, I will also restart the project.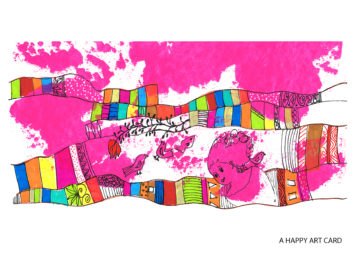 is there anything else you want to say?
I always look at Galerie Zône with admiration. It is such a great concept and it is so good for art, artists and Leiden that they exist. I get very inspired by a visit there. It is also great that they now really own the place. So, good luck to you, Galerie Zône!