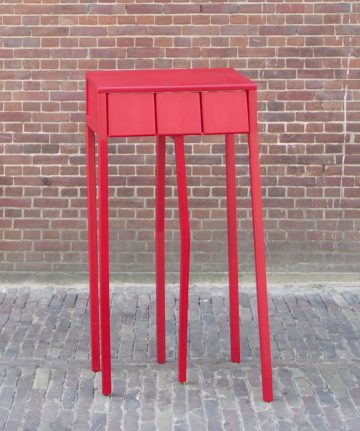 who are you?
Frida van der Poel. I am a self-producing furniture designer and have been travelling this path with my love for almost 40 years.
where are you from / where were you born?
I am from Zoeterwoude and I was born in Leiden.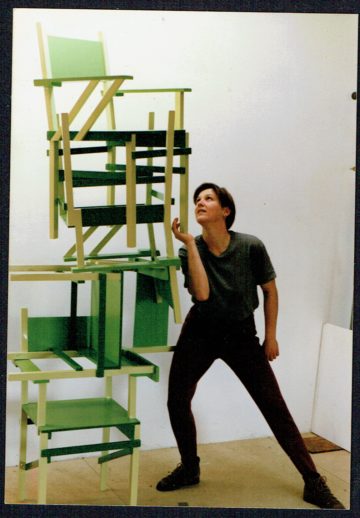 what do you do and how do you make it?
I make furniture and objects. Always 3-dimensional work. I work mainly with wood, either straight from the tree or with sheets of planks. Processing a tree from your own garden or street can take up to 5 years. First the trunk is sawn 'with the wind' by a traditional wind-driven sawmill, such as 'De Heesterboom' in Leiden, into planks or beams. These then need time to dry gently. Using my sketch drawings as a guideline the piece of furniture is made on a scale of 1:1 in my workplace and then created in reality.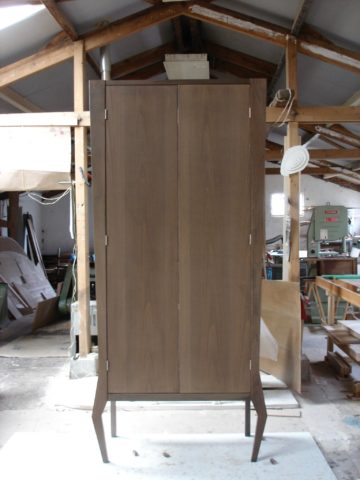 how did you end up on this path / what is your education?
Hmm how did I end up on this path. After a period wandering through Greece and West Africa I returned to Leiden. In the meantime, the Cooperative Association "DE KLOS" had established itself in Zandstraat. They had a wood workshop there where I felt at home. After three years of self-taught work, I went to the vocational furniture-making school in Amsterdam (this is now the HMC Amsterdam/Rotterdam). There I gained my basic knowledge of the trade which I still use in my daily practice.
what inspires you?
My surroundings inspire me. Movements people make, movements in nature. The imagery of words and shapes. The stable that is my workspace with its periodic methane vapours that can sometimes give me almost spiritual highs.
do you do any other paid or unpaid work?
No, there is no time for that. I live from making my own furniture designs which I exhibit in various places including Milan. At present some of my work is on show at the Silvermuseum in Schoonhoven as part of the exhibition "Boudoir" which continues until 15 November 2020, although unfortunately it is closed to the public at the moment.
I also work to commission to fulfill people's specific wishes – there are many possibilities. And we run our own gallery which also demands a certain ammount of input.
how did you come in contact with Galerie Zône?
In 1990, when I was still at the furniture-making school, the furniture makers who were then working in "DE KLOS" asked me if I wanted  to participate in establishing a gallery for applied arts in the centre of Leiden. I wanted to.
Other designers and therefore also other disciplines together in one space, can only reinforce each other. Your product is permanently visible and tangible to the public.
In October 1990 the association was founded and in January 1991 the gallery was opened with a big party. The rest is history.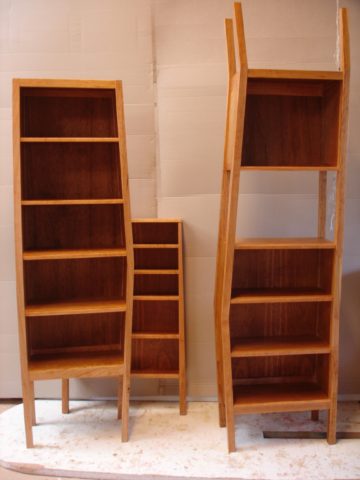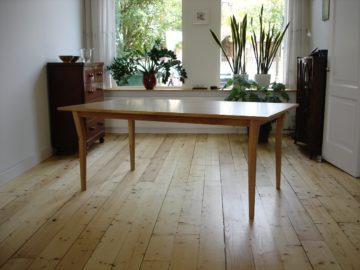 do you want to add anything?
Yes I want to say that having an affordable studio/ workspace is essential for your personal and creative development, which in turn you need in order to further develop your work skills. And it is also essential to have a  place where you can show your work under favourable conditions.
And my motto comes from the Czech Cubist Janák who wrote this in 1910:
"If the design focuses on art, it will automatically become useful".
 And…. stay healthyA