Opening op zondag 7 juni 14:00
U bent van harte welkom op: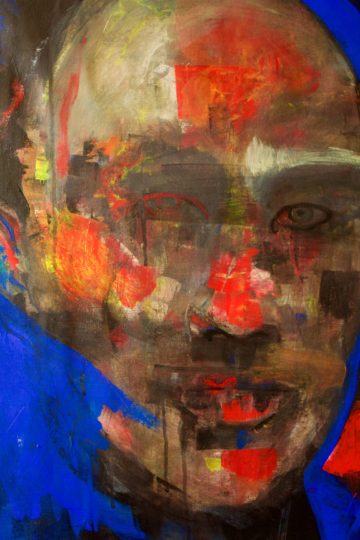 donderdagen van 12:00-18:00 uur
vrijdagen van 12:00-18:00 uur
zaterdagen 10:00 – 17:00 uur
zondagen 13:00 – 17:00 uur.
De vrouw is altijd een centraal thema geweest in mijn werk. Ik zoek naar onconventionele beelden van vrouwen, waarin ook erotische en sensuele aspecten een rol spelen. Een vrouw/antivrouw die niet bang is voor haar schoonheid en haar schaduw. Het kan een Khali of een Gaia zijn, maar ook een Afrodyte of een Ishtar, Ecate of Psyche. De Griekse Mythologie heeft een grote invloed op mijn werk. Ik probeer ook de zachte kant van de man te tonen: de kwetsbaarheid en de zoetheid. De grenzen tussen 'mannelijk' en 'vrouwelijk' is een thema dat mij blijft boeien en inspireren.Androgyn, hermaphrodiet, transgender, man en vrouw in een lichaam versmolten. Wat is de essentie van mannelijk en vrouwelijk?
Gefascineerd door gezichten, lichamen en hun verhalen, ben ik op zoek naar affiniteit en diversiteit. Mijn manier om te werken is zeer expressionistisch, want ik houd van de wilde spatel en kwaststreken van emoties op een doek en tegelijkertijd onderzoek ik de prefecte lijn. Ik zoek de dialoog tussen figuratie en abstractie.
De mogelijkheid om met één van onze 11 leden afzonderlijk af te spreken, blijft gewoon bestaan. Ook als u dit prettiger vindt ivm besmettingsgevaar. Schroom niet en stuur ons gerust een email of neem contact op met één van onze leden.
Wij treffen extra hygiëne maatregelen en laten een beperkt aantal bezoekers tegelijk toe in de galerie. We bedanken u alvast voor de medewerking en eventuele wachttijd aan de deur!