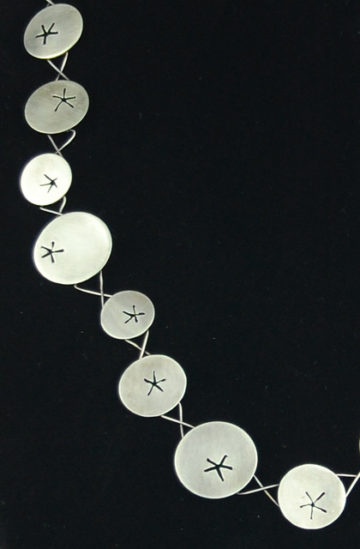 Who are you? Where are you from/where were you born?  My name is Marlies van Velzen and I am one of the three goldsmiths and four jewelry designers at Zône. I was born in The Hague.
What do you make?  I make jewellery. The materials I use are silver, gold, copper, enamel, formica and wood. My studio on the Prinsegracht in The Hague is spacious and light. A wonderfully inspiring and peaceful workplace.
What is your inspiration and how do you use it?  The circle.For me it is a complete shape to which you can still do a lot by bending, combining, turning it inside out, folding it, making a wide edge, a narrow edge – I could continue…                                                                                                                     For example, the Circle pendant contains three circles and the accompanying ring two.
Nature– my background in Biology?!But I want to add something.My aim is not to imitate nature exactly, or even almost exactly.The shapes that occur in nature inspire me to think further, to combine.What I'm trying to do is look at a familiar shape from a different angle.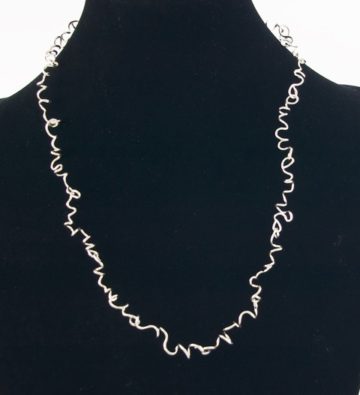 The Tendrils series is inspired by the way climbing plants attach themselves to everything and thus cover entire houses, fences, etc.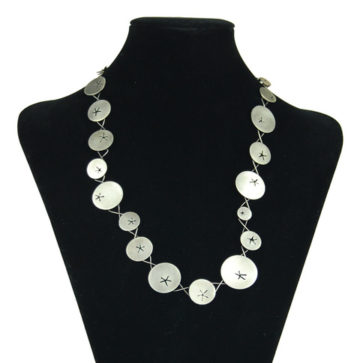 Myrtle is inspired by the blueberry.Apart from the berry itself, I have reflected on the way it rolls – not nicely in a round shape – in the chain. Thinking up something is one thing, but realizing it is something else. With this chain, for example, I thought a long time about the link. It had to be flexible but also hold a certain shape.
How did you end up on this path, and what kind of training do you have?     I have done a number of different courses: Biology; Communication sciences; Chef; film and sculpture at the Vrije Akademy, The Hague; goldsmiths at the City Academy, The Hague; as well as  courses in Schoonhoven. And I worked for years with Phil van der Klundert, a sculptor from The Hague. In addition to technique, he taught me to really look, to see rhythm in artworks, to (endlessly) investigate shapes, to continue on a chosen theme/subject and to be inspired by what you have made.
Do you do any other other paid or unpaid work?  Besides Zône I work at ZonMw.
How did you become a member of  Zône?  Via Rina Ferreira-Papenfus. And I met Rina through a mutual friend. Before that I had heard of Zône from Jose den Hartog – a former member of Zône.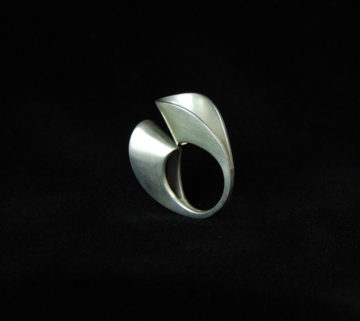 Would you like to say anything else?  Actually I want to ask something – what do our customers and visitors think of Galerie Zône? How can we make the gallery even better, more fun, more original? In short, why do you come to Galerie Zône and what do you hope to find there? I would really love people to let us know.So this is my invitation to email us your ideas – under the title: Zône, I think…!