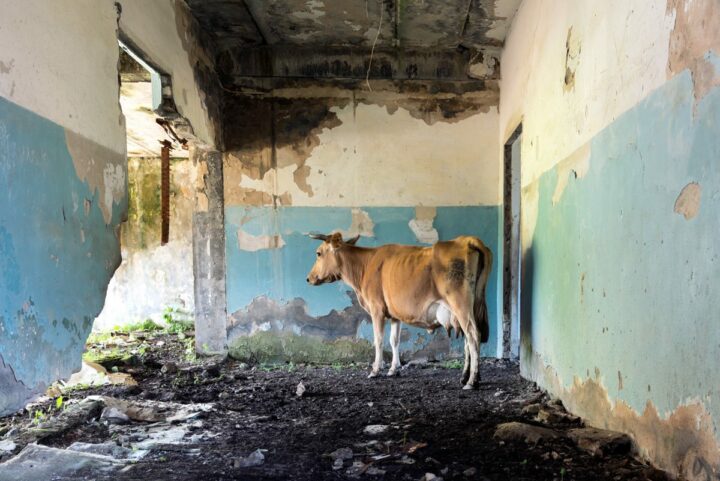 OPENING CEREMONY: 6 August 2022 3:00 pm, Hooglandse Kerk, Nieuwstraat 20, Leiden and afterwards in Galerie Zône.
Photo exhibition in support of Ukraine.
The ArtEcho Foundation, together with its partners, organizes the photo exhibition 'War Silence' by the famous French photographer Aurélien Villette. The exhibition will take place from 6 to 30 August 2022 in Galerie Zone in Leiden. This exhibition is the 30-year link of notorious acts of war in Georgia and Ukraine, both initiated and perpetrated by Russia. An echo of human suffering resounds in both conflicts.
In 2016, during his world tour on the eastern Black Sea coast, the French photo artist and architectural photographer Aurélien Villette stopped in Abkhazia (Georgia), which has been occupied by Russia since 1993. As a professional photographer, he created hundreds of photographic works for the 'Topophilia' ('Abandoned Places') series, 12 of which were exhibited at the Georgian National Museum in 2018. This brilliant photo collection is now coming to Leiden.
With the exhibition 'War Silence' as a guide, war disasters from the past and the present are linked, first in Georgia (1992 and 2008) and now, 30 years later in Ukraine (2022). The photo artworks will be sold during the exhibition and one photo artwork will be raffled during the opening ceremony. The prices vary between € 1800 and € 2500. Interested visitors can buy a ticket for € 30. Part of the income is transferred to GIRO 555/Ukraine.
Aurélien Villette lives in Paris. Traveling is an opportunity for him to gain a better understanding of the world, humanity, different cultures and beliefs. Aurélien Villette visited about 70 countries to discover new societies and gain new impressions that shape his perception of the world. 'Space of Spirit' is Aurélien Villette's bestselling photo album.
ArtEcho Foundation is a small ambitious foundation established in 2009 in the Netherlands. Since that year, the foundation strives to build bridges between Western and Eastern European countries by organizing special cultural events. In 2010, 2012, 2014 and 2017, the foundation let the city of Leiden, Keukenhof and Texel taste the voices, dances, colors and flavors of Georgia. In 2011, 2013, 2016, 2017 and 2018, the Georgian public could enjoy Dutch art, including films, drawings, paintings and photographs by Dutch and French artists, such as Gerrit van Dijk, Cilia van Dijk, Erwin Olaf and Aurélien Villette. More information: www.artecho.nl/projecten
WHERE: Galerie Zône, Nieuwstraat 17b, Leiden
WHEN: 6 to 30 August 2022
OPENING CEREMONY: 6 August 2022 3:00 pm, Hooglandse Kerk, Nieuwstraat 20, Leiden and afterwards in Galerie Zône